Wearables & the Reward based Health Insurance
30 May, 2022
Apart from a changing landscape in the insurance distribution field which has been primarily triggered by the "digital buyer" and fueled by "tech startups", we are also noticing a slow but a decisive shift in the backyard, the way insurance products are priced beyond the traditional methods of experience/tariff/judgement/class rating.
Health Analysis for Health Insurance 
A person who exercises daily and maintains a healthy lifestyle can ask the question to his health insurer as to why he shouldn't be considered for a discounted premium since he takes more care of his health. So far, health insurance rating has depended on lagging factors like age, existing diseases, gender, smoking habits and experience. However, with the revolution in connectivity of devices and wearables, such questions are being addressed to with confidence and with a solution.
There is a growing consciousness on personal health globally. People are investing time and money on exercise and healthy lifestyle. The young population is getting into stricter health regimes. This in turn has fueled the growth of health gadgets, health apps and social communities. Smart watches, activity trackers and other wearable technologies are fast becoming popular. These can track activities and thus can be easily used for medical profiling if data is made available. With the help of this technology, an insurer can measure the following aspects of a customer who decides to get into the loyalty program by sacrificing a little bit of privacy.
Active hours per day
Number of steps in a day
Calories taken
Heart Rate
Sleep time
By tracking some or all of the above parameters, the insurer can have a better judgement on the member's health profile than by getting a declaration form filled up.
The banner of preventive healthcare has been taken up globally by various segments of government and industry. Insurance industry is playing a part by offering rewards and thus promoting preventive healthcare.
However, we have noticed that this disruption is happening in 2 phases as below.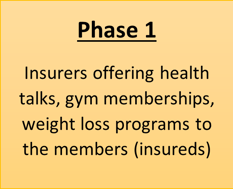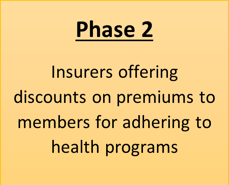 Insurers offering health talks, gym memberships, weight loss programs to the members (insureds)
Insurers are partnering with Gymnasiums, health clubs, weight loss programs and other entities and offering membership to their customers. These are either offered free, or with some discounts. We have seen this in a limited way in UAE and this could further flourish in this market. This, along with creating health awareness, is also helping in creating a healthy population and in effect, helps in reducing claims. In the same model, while encouraging healthy activities, insurers can give free memberships and other discounts to the consumers who are achieving some set health targets. For example, a particular insurer might give discount vouchers for an insured who walks more than 10,000 steps a day. Some of the items that insurers are adding to their list of preventive healthcare are weight loss programs, gym membership, stop smoking programs etc.
In the second phase, insurers can monitor the member's adherence to various programs and apply insurance premium discounts accordingly. We are yet to see this phase in UAE, but there have been some movements in this regard in some parts of the world. Some insurers in the west provide wellness points based on prescribed activities which can be redeemed for discounts in the premium.
Some of the benefits that can be achieved by a Reward based health insurance program are:
An incentive towards achieving health goals
Creating health awareness
A better fitness ecosystem that includes various players like yoga clubs, health clubs, gyms, etc
More accurate pricing of premiums
A few employers are offering wellness benefits to their own employees. This is creating a new culture of a healthy organization. The programs are designed for better employee health, a more active workplace, less absenteeism, and less insurance premium.
Insurers offering discounts to members for adhering to health programs 
However, when we come to the 2nd phase where underwriting is based on actual data, there is still a lot of movement that needs to happen. Additionally, there are issues about usage of wearables, encroachment of privacy and legal consequences therein. 
The market size of wearable technology is supposed to reach USD 118.16 billion by 2028, with an annual growth rate of 13.8% from 2021 to 2028. This is as per an article in Businesswire. An Accenture report published in 2017 mentions that 65% of the millennial population is agreeable to a wellness-connected life insurance product. This data is encouraging.
More sooner than later, we can expect a few positive movements in the usage of wearables and in the medical apps industry. The underwriters will be able to make more precise judgments. Additionally, even the traditional insurance model will take the help of data from these technologies. All in all, health insurance is evolving fast and is set for even faster evolutions in the future.