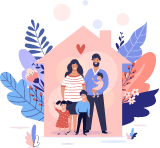 Home Insurance
Home is where the heart is. Protect it with simple DIY tips and home insurance
The Importance & Benefits of Home Insurance
Home Insurance is not a compulsory requirement in this part of the world but that doesn't make it less important, especially if you have invested your lifetime savings in your dream home.
When to Review your Home Insurance
Home insurance gives peace of mind. That, you need not worry about loss or damage of your valuables from theft, fire, natural calamities or any unforeseen reasons.
Insuring your "Home Sweet Home" - Key Points & Considerations
A home is where the heart is! For most, it is not only a place, but also a feeling. And like any other place , unfortunate & unforeseen events can wreck havoc to a person's prized possessions.
Tightening The Risk Management On Buildings with Home Insurance
In the recent past, we have witnessed quite a few incidents of large fires in buildings across the UAE. As a result, the insurers and the re-insurers have tightened their underwriting by