Protect your company registered vehicles under one single policy
Get Fleet Insurance Now!
Insure all private & commercial vehicles under one fleet insurance policy with the same expiry date.
Customized Coverages for your Vehicles
Choose the specific on-road/off-road covers that would best suit your business needs
Simple Claims Management
Monitor the claims performance periodically to ensure that your vehicles under the fleet insurance policy are well driven & business operations is happening smoothy.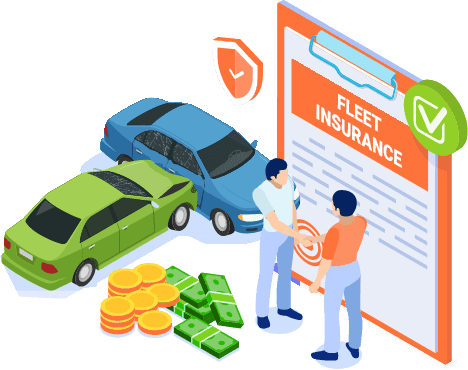 Features of fleet Insurance Plans
Extension of agency repair covers for your high value/management's vehicles under fleet insurance policy

Additional extension for commercial vehicles such as trucks/trailers

Geographical Area Extensions

Extension of cover beyond UAE borders for vehicles based on your business requirement

Off Road Project Related Extensions

Amidst this pandemic, a cover for Covid -19 is crucial for everyone, hence we have this covered in our health insurance plans

Rent-A-Car facility or alternate vehicle benefits in the event your vehicle meets with an accident

The coverage under motor fleet policies can be tailored based on your requirements
Why Choose Us?
Gargash Insurance, an integral part of the Gargash Group of Companies, has been delivering excellence in insurance broking and risk management services in the UAE since 1994. A team of over 300 qualified insurance professionals, an expansive network of local and international insurers, our extensive knowledge of the insurance industry and the regulatory framework has enabled us to consistently deliver excellence to our diverse range of clientele.
Our Esteemed Insurance Partners
All you need to know about Fleet insurance
Motor fleet insurance is a policy that will cover several vehicles under one single policy. These policies are tailor made to fit the needs and requirements of the policyholder.
2. Advantages of a Fleet Policy.
A fleet policy generally has the below mentioned advantages.
It's easier to keep track of all the vehicles since the coverage of all vehicles expires on the same day unlike individual policies where the coverage would expire on separate dates. Vehicles can be added or deleted from the policy throughout the policy period depending upon business requirements.
Based on the total portfolio of vehicles and fair claims history, insuring your vehicles under a fleet policy will be considerably cheaper than insuring them on an individual basis.
Covers can be bought back or restricted based on your business or project requirements.
3. How many vehicles are required to start a fleet policy?
With a minimum of 5 vehicles, you will be eligible to start a fleet policy. However, some of the business activities would require more number of vehicles as an eligibility criteria as per guidelines of insurance companies.
4. How do we add the vehicles to a fleet policy which is currently insured with other insurance companies?
You can easily add those vehicles to the fleet policy as & when the vehicle registration is due for renewal.
5. In addition to the company vehicles, can I add the vehicles owned by Senior Management/owners?
Yes, certain insurers do allow the personal vehicles to be added to the company fleet policy or even suggest having a separate fleet policy for the Management's vehicles.
6. What are the requirements for obtaining a fleet insurance quote?
The key requirements are:
Vehicle list
Claims ratio report
Date of fleet expiry
Target rate
Any specific cover requirements based on projects/business activities
7. Is fleet policy a cheaper option always?
Not necessarily. If the fleet size is less, there is always a cheaper option of insuring the vehicles under individual policies.
8. Do I need to renew all the registration cards in one-shot once the fleet policy expires?
No. The registration cards should be renewed only when their expiry is due as per RTA records. For this purpose, you need to approach your insurer to have a certificate of insurance under the fleet policy.
9. Can I opt covers or extension as per the business requirements?
Yes, this is an added advantage in fleet policies. Unlike individual policies where covers are generally pre-written, a fleet policy will allow you to choose covers for a better limit; provided the coverage falls within the treaty of the insurer.
10. Can I obtain online fleet insurance quotes?
We would not recommend this. A fleet policy should be tailored to your individual needs. Gargash Insurance Services has a dedicated and experienced fleet insurance team who will be happy to provide advice and a competitive fleet insurance quote. You may either submit your details via email or contact us by phone and we will be more than happy to assist you.
11. What types of cover can I get for my fleet insurance quote?
Comprehensive Fleet Insurance
Third Party Only Fleet Insurance
12. Are there any restrictions for driver's age under fleet policy?
As previously mentioned, fleet insurance is tailored around the individual needs of the policyholder. Driving restriction can be as simple as 'named and approved drivers' or even any driver over 18 years of age. Obviously, there would be special approvals to be obtained prior to placement depending on the scope of the driving restrictions requested.
13. Are there any other insurance covers I should consider?
Policyholders with fleet insurance are typically business entities. As such they should ensure adequate cover for their business and premises. Gargash Insurance has a dedicated Commercial Lines insurance team who can assist for quotations and suggest solutions for all your insurance needs.